James Lileks has just scanned and posted a beautiful set of 1930s "Dream Kitchens". No kidding, these are just marvelous — cheerful, bright, well-planned. (Well, mostly… those space-saving chairs are daffy.)
There are lots of glass-block walls. Why don't I have any glass-block walls? One even extends behind the kitchen sink, brightening up the nasty under-sink cabinet. There's a fantastic red-and-cream sewing/laundry room with tons of built-ins and another glass-block wall. So bright and cheery! Want.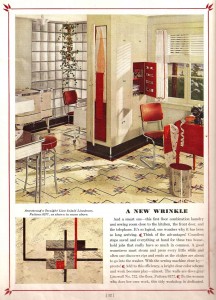 My dad was born in 1930. I wonder if his mom flipped through the Armstrong leaflet and daydreamed about a new modern kitchen with an easy-care linoleum floor and glass-block walls.
Category: Blog 2 comments »