Guess what! I have just filled my "Kayray Reads to You" podcast feed with Christmas stories! There will a chapter every day from now till Christmas (and maybe after).
Click this link to subscribe in iTunes: Kayray Reads to You
Today, we start with the first chapter of The Best Christmas Pageant Ever. Although it was first published in 1971, I missed out on it when I was a kid and didn't discover it until Henry was little. Hope you like it! There are seven chapters and I'll podcast one chapter every day, so be sure to refresh your podcast list daily, or come to my blog to download directly.
The Best Christmas Pageant Ever, Chapter 1
(Click the image to see the book on Amazon and buy your own copy!)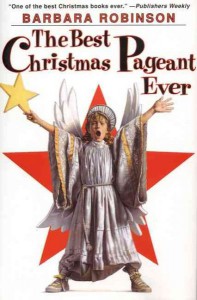 Category: Audiobooks, Blog Comment »