If you've never heard Dylan Thomas's own reading of this, please seek it out. Mine is good, but his is, of course, perfect.
A Child's Christmas in Wales, by Dylan Thomas
When I was little, we had a little square book with woodcut illustrations by Ellen Raskin. This is the one — which I have now added to my Amazon wishlist because, miraculously, it's still in print! (Edit: Mom found a copy for me!)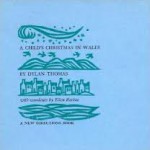 One Christmas was so much like another, in those years around the sea-town corner now and out of all sound except the distant speaking of the voices I sometimes hear a moment before sleep, that I can never remember whether it snowed for six days and six nights when I was twelve or whether it snowed for twelve days and twelve nights when I was six.
Category: Audiobooks, Blog Comment »