Chapter 21 (the last chapter)
The Trumpet of the Swan: 21 The Greening Spring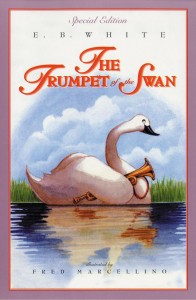 Category: Audiobooks, Blog 2 comments »
2 Responses to "Trumpet of the Swan, ch 21"
Carla
July 15th, 2015 at 11:57 am

Just wanted to say thank for keeping us company on our trip halfway across the continent and back, along with the help of EB White and Elizabeth Enright. Your stories made a world of difference to our sanity!

Sarah Back
January 28th, 2016 at 1:29 am

Thanks so much for this! My four year old daughter and I have really enjoyed listening to it. Kind regards, Sarah (Pearcedale, Australia).
Leave a Reply