Eye exam with kindly Dr Siu this morning. No problems, prescription changed a little bit so I ordered new glasses from zennioptical.com! I almost chose my same old rhinestone-encrusted cat-eye frames, but then I noticed they had some cat-eyes without the rhinestones so I got those instead. A red pair of progressive bifocals, near distance, for at home:

And a tortoiseshell pair of progressive bifocals, standard distance with those lenses that darken automagically in the sunshine, for driving and out-and-about: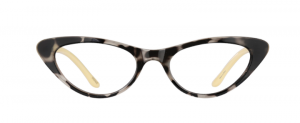 The Zenni factory is quite close to my house, so they'll probably arrive in about a week. My total for BOTH pairs was $190. You can't beat that with a stick.