I made the knitty.com "bpt" sweater a couple of years ago. I wear it constantly, but the hood kind of bothers me. I almost never use it ('cause I've made myself an assortment of cute warm hats) and it's lumpy when I lean back in my seat. So today I RIPPED it off while listening to LibriVox's lovely free audiobook of The Awakening. Ripped it all the way back to the neckline, picked the neck stitches back up and started knitting a little standup collar. The sweater is rather poorly designed at the neck — the front is as high as the back, so it rides down in back and is too high in front. In an attempt to make it fit better, I'm doing the collar with short rows in back to make the back higher. Let's hope its a success! I took a "before" picture which maybe I'll post tomorrow.
Oh, and here's an old photo of the sweater in its still hooded state: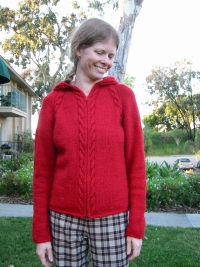 I'd also like to make it longer and less tapered, so I might be doing some more alterations after I fix the neck.

Category: Blog, Handmade 3 comments »