This eyelet pattern reminds me of the Sweet Alyssum flowers that grew in our yarn when I was a kid. If I remember correctly, there were white ones and purpleish ones, so if I make these socks again I'll choose purple instead of orange.
I wrote up this pattern in a way that makes sense to me, but if you find it confusing please let me know and I'll try to clarify :)
This sock fits my skinny size 7.5 foot with room to spare. The eyelet pattern and the Risata are both nice and stretchy.
One ball Knitpicks' Risata in Clementine (use Fairy Tale or Marionberry for more botanically accurate socks)
One ball Knitpicks' Risata in Buttermilk
Needles size 0 (I knit very loosely — you may need to use needles several sizes larger to get gauge)
Gauge in Stockinette: 6.5 st/inch
Eyelet chart:

Cast on 48 stitches. I used both colors and this lovely, two-needle, stretchy cast on: http://www.youtube.com/watch?v=xXDMsy949yw. That's my favorite cast-on for cuff-down socks and mitten cuffs.
Work 11 rounds k2 p1 ribbing in Buttermilk.
Switch to Clementine, and begin eyelet chart.
After 8 rounds of Clementine, switch back to Buttermilk and work next section of eyelet chart. Move round marker forward one stitch so that the eyelet pattern fits within the round. As you knit around, you may need to shift stitches from one needle to another to avoid having to work eyelet motifs between needles. Do whatever makes it easy. Buttermilk eyelet motifs will be centered between the Clementine ones. I carried the yarn loosely up the back of the sock between color rounds so I didn't have a million ends to weave in.
Continue switching colors every 8 rounds and shifting round marker one stitch forward or back until you have four Clementine stripes.
Work heel flap in Clementine on 25 stitches. Be sure that your heel flap is centered relative to the lace pattern! I like a long heel flap so I worked 30 rows, I think. I used the basic Heel Stitch. Turn the heel according to your favorite method. I prefer a German heel.
Switch to Buttermilk and pick up gusset stitches. Here's a good way to avoid holes at the corners of your gusset: http://www.youtube.com/watch?v=EOI_oXPm1iA.
Arrange stitches so you have your 24 instep stitches on one needle, and continue eyelet pattern across that needle as established. Keep the sole of the foot and gussets in stockinette and decrease away your gusset stitches every other round, with k2tog just before you knit the instep stitches and ssk right after, until you are back at 48 stitches.
Knit in pattern until you have 5 Buttermilk stripes on foot. Switch to Clementine for toe. (If you have a shorter foot, knit until you have 4 Clementine stripes on foot and make toe with Buttermilk)
Pretty Little Toe (my hybrid of Round Toe and Flat Toe):
k 1 round Clementine
Decrease round: k6, k2tog around (42 st)
k 5 rounds plain
Dec round: k5, k2tog around (36 st)
k 4 rounds plain
Dec round: k4, k2 tog around (30 st)
k 3 rounds plain
Dec round: k3, k2tog around (24 st)
k 2 rounds plain
Dec round: k2, k2tog around (18 st)
k 1 round plain
Arrange stitches on two needles so you have 9 instep stitches on top needle and 9 sole stitches on bottom needle. KNit a few stitches as necessary to get yarn to side of toe. Graft stitches together (tutorial here).
Block to open up eyelets, and wear!
****************
Detail of the Pretty Little Toe:

Genuine Sweet Alyssum flowers. Look, each tiny flower really does have four petals!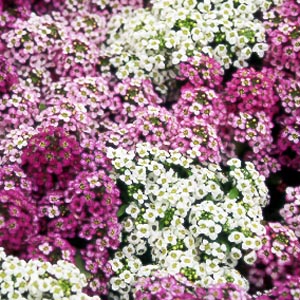 Category: Blog, Free Patterns, Handmade 6 comments »