Back in August of 2008, Shell Crandall and I started a duet recording of a really excellent children's history book, "The Story of Mankind." We alternated chapters. The day after we got to Canada, Shell finished up her last few recordings, Anna proofed them, and I did the cataloging, so this fabulous book is ready for you to download!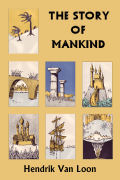 http://librivox.org/the-story-of-mankind-by-hendrik-van-loon/
I listened to it over and over for about three days straight, while napping upstairs in Montreal. Very soothing. If you like to read along while listening, you can get the plain-jane text at Project Gutenberg, read along with an illustrated e-text at mainlesson.com, or, best of all, buy the lovely thick paperback reprint with original illustrations from Yesterday's Classics!
I'll probably put this book up in my podcast feed when "The Adventures of Sally" is finished. I really think everyone will enjoy it.
Category: Audiobooks, Blog 2 comments »