I'm starting a new podcast, "Kayray Reads to You", in which I will read aloud from some of my very favorite kids' books, starting off with Elizabeth Enright's wonderful "The Saturdays".
Here's the feed: http://kayray.org/audiobooks/kayray_reads.xml
Or click here to view in iTunes.
I prefer reading to editing so, since I am not making audiobooks here, these podcast episodes will be mostly unedited. If the cat starts yowling, well, you'll hear her yowl! Here's the first chapter. Enjoy!
The Saturdays: Saturday One (22:32)
The four Melendy family books, of which this is the first, have recently been reprinted in beautiful hardback editions. I suggest you pick up all four before they go out of print again.
http://www.amazon.com/Saturdays-Elizabeth-Enright/dp/0805070605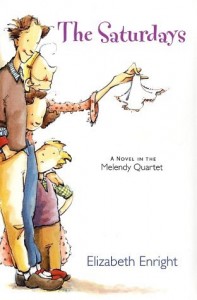 Category: Audiobooks, Blog Comment »