One of my favorite picture books when I was very little was Richard Scarry's "Busy Busy World" (first half of the hardback "Going Places). I know my little not-yet-born niece won't be ready for it for a couple of years, but I recorded it for her anyway, and YOU get to listen to it too! I really hope you can buy or borrow the real book, 'cause the pictures are half the fun. Of course it's out of print and VERY pricy used on Amazon. Sigh.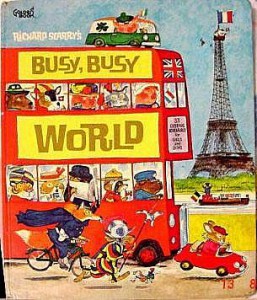 I recorded all thirty-three stories into one 45-minute file, which you can download here:
http://archive.org/download/KayrayReadsToYou2/busybusyworld.mp3
Also, just to be fancy I created an m4b file, which has chapters in it so you can skip to your favorite stories, at least you can if you use iTunes or an iOS device:
http://archive.org/download/KayrayReadsToYou2/BusyBusyWorld.m4b
Which stories are your favorites? :) I'm very fond of Glip and Glop, the Greek Painters; Schtoompah, the Funny Austrian; Schmudge, the German Chimney Sweep; Mario, the Venetian Gondolier; and Hans, the Dutch Plumber. Oh and Dr Krunchchew the Russian Dentist!
Category: Audiobooks 7 comments »