UPDATE! (June 17, 2014) A commenter has just let me know that you can now purchase an ebook of "Poo-Poo and the Dragons" with the original illustrations! So if you enjoyed my recording, please support this publisher and buy your own copy of this wonderful classic.
http://enetpress.com/books/Poo_Poo_and_the_Dragons.html
*************************************************************************
Have I got a treat for you! Chapter 1 of "Poo-Poo and the Dragons" by C. S. Forester (yes, the guy who wrote the Horatio Hornblower books).
Poo-Poo and the Dragons Chapter 1
I've recorded 11 of 17 chapters but I have added the finished chapters to my podcast feed already. I'll get the whole book done soon because I have to get it finished before the library wants it back. I don't have my own copy because it's out of print and used copies are rare and expensive. If you have a copy, hang on to it! The illustrations are by Robert Lawson. You would recognize his style — he illustrated Ferdinand!
I hope you like the adventures of Harold Heavyside Brown (a.k.a. Poo-Poo) and his dragons!
P.S. A big thank-you to the Lindsay kids for donating to my birthday Charity: Water campaign! :)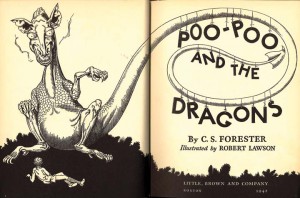 Category: Audiobooks, Blog 5 comments »