Today in my Christmas Audiobook Extravaganza we have the Christmas chapter from a wonderful book called "The Four-Story Mistake". If you like this chapter, you can find the rest of the audiobook on my "Kayray Reads to You" page.
The Four-Story Mistake, Chapter 8: Noel, Noel
Y'know, this is a fantastic book in a fantastic quartet of books. It would make a great Christmas present for your favorite kid (or adult who loves kids' books)! Click the image to see it on Amazon. Get the rest of the Melendy books while you're there :)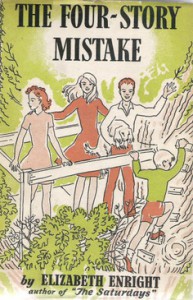 Amazon blurb:
Into the Four-Story Mistake, an odd-looking house with a confused architectural history, move the Melendy family — Mona, Rush, Randy, Oliver, Father, and Cuffy, the housekeeper. Though disappointed about leaving their old brownstone in New York City, and apprehensive about living the country life, the four Melendy kids soon settle into this unusual new home. Here, they become absorbed in the adventures of the country, adjusting themselves with all their accustomed resourcefulness and discovering the many hidden attractions that the Four-Story Mistake has to offer.

The Four-Story Mistake is the second installment of Enright's Melendy Quartet, an engaging and warm series about the close-knit Melendy family and their surprising adventures.
Category: Audiobooks, Blog 3 comments »