Chapter five, yay!
Return of the King Bk 1: 05 The Ride of the Rohirrim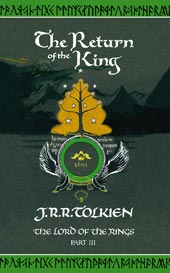 Category: Audiobooks, Blog 3 comments »
3 Responses to "Return of the King, Chapter 5"
Rusty
September 23rd, 2014 at 11:32 pm

I love your voice…great to listen to. Was wodering if when your done with this book. You would read my personal favorite book.. the book of three by lloyd alexander? I want my neices to hear it read by you.

kara
September 24th, 2014 at 11:11 am

Hi Rusty, I have good news and bad news. The good news is that, thanks to your comment, I remembered that I read and recorded "The Book of Three" for my son years ago! I dug it out of my archives and uploaded it to https://archive.org/details/kayrayreadstoyou4 .

The bad news is that it seems we never finished it. The recordings only go to chapter 16. But I've just put the book on my Kindle and will try to record the last four chapters sometime soonish… please remind me if months pass ;-)

(Also, I apologize for butchering ALL the Welsh pronunciation…)

Brian
October 9th, 2014 at 9:23 pm

Thanks so much Kara for your good efforts. It is appreciated!
Leave a Reply