Betsy-Tacy and Tib: the second book in the Betsy-Tacy series by Maud Hart Lovelace. The series is based on the author's life; her family and friends have been renamed, but they really were just like the the people in the books! In this book, Betsy, Tacy, and Tib, who are now eight years old, play just as well together as Betsy and Tacy did, and they never quarrel. They get into a little more trouble in this book, though!
You can find out more at the Betsy-Tacy Society:
http://www.betsy-tacysociety.org/betsy-tacybooks
I'm going to post the whole book here all at once; the chapters will be in my podcast feed three times a week, as usual, but I don't feel like scheduling individual posts here to match.
Betsy-Tacy and Tib: 01 Begging at Mrs. Ekstrom's
Betsy-Tacy and Tib: 02 Learning to Fly
Betsy-Tacy and Tib: 03 The Flying Lady
Betsy-Tacy and Tib: 04 The House in Tib's Basement
Betsy-Tacy and Tib: 05 Everything Pudding
Betsy-Tacy and Tib: 06 The Mirror Palace
Betsy-Tacy and Tib: 07 Red Hair, Yellow Hair, and Brown
Betsy-Tacy and Tib: 08 Being Good
Betsy-Tacy and Tib: 09 The Secret Lane
Betsy-Tacy and Tib: 10 Aunt Dolly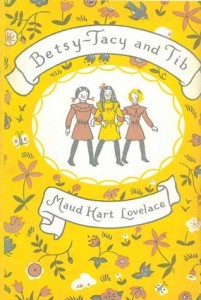 Category: Audiobooks, Blog 9 comments »