Edit: oops, the links were bad. I've fixed 'em. :)
I think this one took me about a year. The last time I posted a new "Kayray Reads to You" recording was September 2015. Oof. It's been a hard year.
Betsy and Tacy Go Over the Big Hill: the third book in the Betsy-Tacy series by Maud Hart Lovelace. The series is based on the author's life; her family and friends have been renamed, but they really were just like the the people in the books! In this book, Betsy, Tacy, and Tib all turn ten years old, and they're obsessed with Kings and Queens.
Betsy and Tacy Go Over the Big Hill: 01 Getting to be Ten
Betsy and Tacy Go Over the Big Hill: 02 Ten Years old
Betsy and Tacy Go Over the Big Hill: 03 The King of Spain
Betsy and Tacy Go Over the Big Hill: 04 Naifi
Betsy and Tacy Go Over the Big Hill: 05 The School Entertainment
Betsy and Tacy Go Over the Big Hill: 06 A Quarrel
Betsy and Tacy Go Over the Big Hill: 07 Out For Votes
Betsy and Tacy Go Over the Big Hill: 08 Little Syria
Betsy and Tacy Go Over the Big Hill: 09 The Quarrel Again
Betsy and Tacy Go Over the Big Hill: 10 A Princess
Betsy and Tacy Go Over the Big Hill: 11 A Queen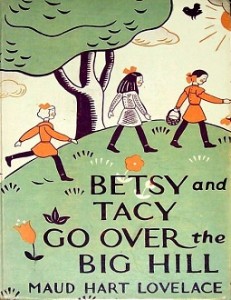 Category: Audiobooks, Blog 10 comments »