Last week it got suddenly hot, summertime hot. I'd been wearing my heavy green Doc Martin boots all winter but yearning for something new, so one day I went to Sports Authority and bought a pair of green Crocs. Yeah, those uncomfortable-looking shoes that all the kids are wearing. I bought some for Henry a couple of months ago, on the recommendation of a karate mom whose kid has hot feet, like Henry. Henry loves his Crocs and actually WEARS them without resistance, which pleases me very much. I'm sick and tired of battling with him to keep his shoes on. (Plus, Henry's shoes always become horribly smelly because he refuses to wear socks unless it's really cold out, but his Crocs haven't picked up any foot-stench at all. Which is a miracle.) Henry says that after a break-in period, his Crocs are super-comfy. And I thought they'd be cute with my handmade socks peeking through the holes on those not-so-warm days.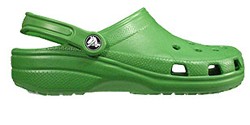 I adore my Crocs. Far from being uncomfortable and plasticy-feeling, they're softish without being super-squishy, and they're very nice on the feet. My arch supports fit in them perfectly. They weigh so little that I barely even notice them, and that's good 'cause I need all the help I can get not to get tired out. Plus, they're cute :) Also, cheap at about $21.
Now, of course, it's cold again, but my Crocs work well with all but my thickest wool socks and my feet are warm and comfy.
Today was Karate and then Bayshore. I watched the musical theater rehearsal (they're doing a highly-abridged version of The Sound of Music, minus the Nazis and romance but with about 8 extra von Trapp children added — Henry plays "Franz von Trapp", which is great 'cause he'll get to sing most of the songs. :) Then I ran over to Yarning For You and browsed through the yarn, looking for nice sock yarn. I was perplexed to find that EVERYTHING they carry is self-striping. Bleah. I will stripe my own socks if I want stripes, thank you very much, and I rarely WANT stripes. I prefer cables and other textural interest, or stranding with two SOLID colors. There was some just luscious merino sock yarn, springy and soft, but all self-striping and in unattractive colors to boot. The lady understood my pain and dug around in the back of the store, and found me a couple of balls of plain red Jawoll sock yarn, the kind I like, with the extra nylon for toes and heels. But I decided I should maybe finish up Tubey and Dan's 2112 hat and Henry's second pair of 2-day socks before I start something else, so I asked her to try not to sell the red sock yarn until I come back for it :) While I was there I bought 3 sets of my adored Brittany Birch DPs, sizes 0, 1, and 2. I got the little short 5″ ones, as I've heard they are wonderful for socks. I'll start another pair of 2-day socks for Henry tonight on them :) :) :)
After Bayshore, we brought Henry's friends Adam and Brooke home with us, and they played happily all the rest of the day till I took them home at 6:30. Great kids, plus they live very very close! We plan to get together again soon. Adam just turned 12, and Brooke is 10-going-on-11, so Henry, at 11 1/2, is right in the middle.
Category: Blog 5 comments »